2019-2020 Registration NOW OPEN!
---
---
Registration is now open.
Take note:
1) When registering, ALL players must create a NEW account as YMH registration is now directly thru Hockey Canada.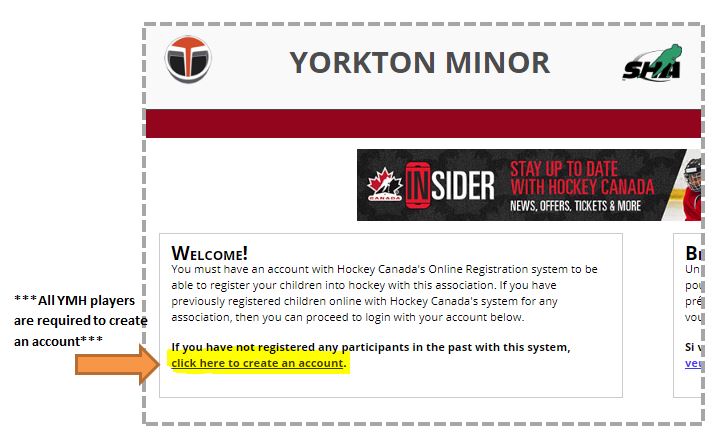 2) Kidsport Yorkton provides assistance for players who need it -- to apply with Kidsport support, please email yorktonminorhockey@sasktel.net to set up a time to complete your registration.
3) 𝗔𝗟𝗟 𝗡𝗢𝗡-𝗬𝗼𝗿𝗸𝘁𝗼𝗻 𝗠𝗶𝗻𝗼𝗿 𝗛𝗼𝗰𝗸𝗲𝘆 𝗽𝗹𝗮𝘆𝗲𝗿𝘀 (𝗣𝗹𝗮𝘆𝗲𝗿𝘀 𝘄𝗵𝗼 𝗱𝗶𝗱 𝗡𝗢𝗧 𝗽𝗹𝗮𝘆 𝗶𝗻 𝗬𝗼𝗿𝗸𝘁𝗼𝗻 𝗹𝗮𝘀𝘁 𝘀𝗲𝗮𝘀𝗼𝗻) 𝘄𝗵𝗼 𝗮𝗿𝗲 𝗶𝗻𝘁𝗲𝗿𝗲𝘀𝘁𝗲𝗱 𝗶𝗻 𝗽𝗮𝗿𝘁𝗶𝗰𝗶𝗽𝗮𝘁𝗶𝗻𝗴 𝗶𝗻 𝗔𝗔 𝗧𝗿𝘆𝗼𝘂𝘁𝘀 𝗶𝗻 𝗬𝗼𝗿𝗸𝘁𝗼𝗻:
Use this link to register your player: http://yorktonminorhockey.ca/form/3812
E-transfer $60 : yorktonminorhockey@sasktel.net
** $60 fee MUST BE received prior to tryout **
4) 𝗔𝗟𝗟 𝗡𝗢𝗡-𝗬𝗼𝗿𝗸𝘁𝗼𝗻 𝗠𝗶𝗻𝗼𝗿 𝗛𝗼𝗰𝗸𝗲𝘆 𝗽𝗹𝗮𝘆𝗲𝗿𝘀 (𝗣𝗹𝗮𝘆𝗲𝗿𝘀 𝘄𝗵𝗼 𝗱𝗶𝗱 𝗡𝗢𝗧 𝗽𝗹𝗮𝘆 𝗶𝗻 𝗬𝗼𝗿𝗸𝘁𝗼𝗻 𝗹𝗮𝘀𝘁 𝘀𝗲𝗮𝘀𝗼𝗻) 𝘄𝗵𝗼 𝗮𝗿𝗲 𝗶𝗻𝘁𝗲𝗿𝗲𝘀𝘁𝗲𝗱 𝗶𝗻 𝗽𝗮𝗿𝘁𝗶𝗰𝗶𝗽𝗮𝘁𝗶𝗻𝗴 𝗶𝗻 Conditioning Camp 𝗶𝗻 𝗬𝗼𝗿𝗸𝘁𝗼𝗻:
Atom, Pee Wee & Bantam are FULL.
Use this link to register your player: http://www.yorktonminorhockey.ca/form/3865
E-transfer $100 : yorktonminorhockey@sasktel.net
** $100 fee MUST BE received prior to the first session **